With Lee Spath – Drums Ravi, Knypstra -Bass
Thursday, May 9, @ 7-10pm
1833 Colorado Blvd
Los Angeles, CA 90041
No cover!
With Lee Spath – Drums Bill & Von Ravensberg -Bass
Thursday, January 10. 7-10pm
1833 Colorado Blvd
Los Angeles, CA 90041
Please join award winning pianist/composer Tigran Martikyan and an extraordinary painter Dillon Lin for their music & art open house workshop on Sunday, October 28, at 2:00-5:00 pm
___________________________________________________
Martikyan Music Center
330 S. Rosemead Blvd, Pasadena, CA 91107
It is Strongly recommended to reserve your seats at Martikyan Music Center the head of time. Reception to follow.
LACC Concert Series
Tigran Martikyan on piano and Hrag Karagoezian on Guitar
Thursday, September 27, @ 12:45 pm
Entrance free.
LACC 855 N Vermont Ave
Los Angeles, CA 90029
2 SHOWS: Saturday, November 11 @ 5:00 pm & Sunday, November 12 at 3:00 pm (DOORS WILL BE OPEN 30 min PRIOR TO EACH SHOW) please come on time! Doors will be locked as soon as shows start!
Martikyan Music Center will be presenting "my jazz adventures" by an extraordinary and versatile pianist Tigran Martikyan. The program will feature original music as well as wide range of works from the Armenian and foreign composers. Martikyan Music Center is a intimate venue with a seating capacity of 21. Please make your reservations the head of time as seats will fill up fast!
General admission 18+ (students discounts available-must bring student' ID)
Coffee/beverages, cakes will be served after the show!
TICKET RESERVATIONS HERE!!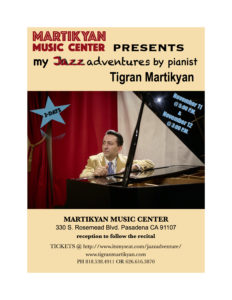 Tigran Martikyan at solo piano recital
LACC Herb and Alpert Recital Hall (Room 210) October 5, Thursday @12:45pm
Admission free!